Second Graders Show Off Innovative Inventions
Projects completed at Wilson Elementary School in West Caldwell with the Center for Excellence in STEM Education were recently highlighted in an article by The Progress.  Click on the link below for the full article.  Wilson Elementary School is one of many New Jersey school districts receiving targeted training on the Next Generation Science Standards in preparation for their full implementation in 2017.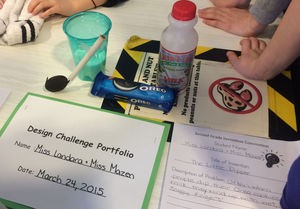 Click Here for the Full Article
Excerpt from the article by Nicole Bitette:
"The students outlined their design processes in a "design portfolio," which included everything from the development stage to the intended demographic and environmental and social impact of the creation, Landara explained.
Chris Anderson, a professor of engineering at The College of New Jersey, also visited the students. Anderson assisted the students in 2D and 3D drawings of their designs.
Mazen said that the process showed how different the students' problems are from adults.
'We learned some kids are better problem solvers than adults,' she said.
Mazen added that the children were extremely excited about their inventions and to show them off to parents and fellow Wilson School peers.
Landara said it was also a way for the school to prepare for the Next Generation Science Standards that will be instated in the district for elementary students come 2017."
For more information on professional development opportunities, please see our event calendar or email StemCenter@tcnj.edu.